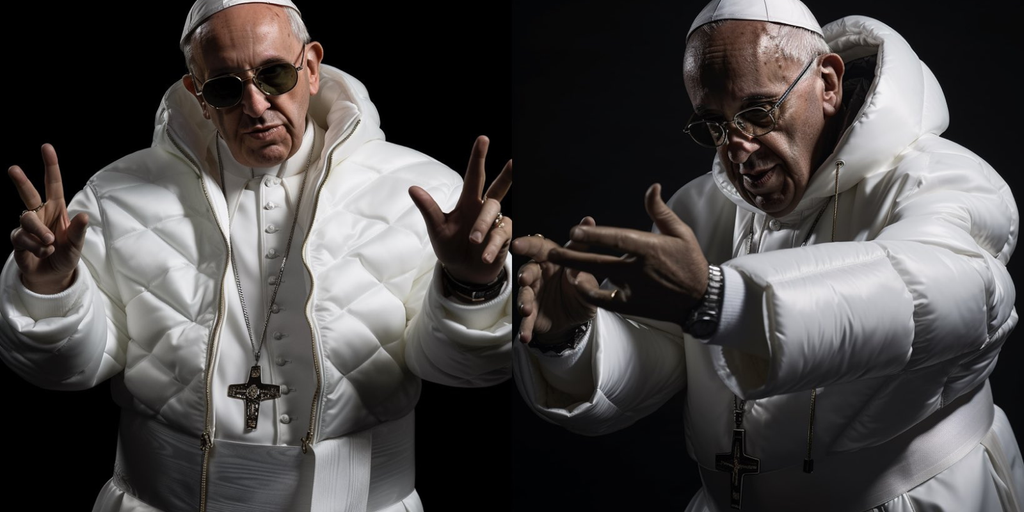 In an official statement from the Vatican on Tuesday, Pope Francis sounded the alarm on the disruptive possibilities of artificial intelligence. The message came in a prelude to an upcoming homily, "Artificial Intelligence and Peace," for World Peace Day on September 21.
"The remarkable advances made in the field of artificial intelligence are having a rapidly increasing impact on human activity, personal and social life, politics and the economy," Francis said.
Francis called for open dialogue on AI and what the emerging technology means for humanity, saying AI is "endowed with disruptive possibilities and ambivalent effects."
Word of an AI-generated deepfake of Pope Francis wearing a puffy white Balenciaga jacket and a diamond-encrusted necklace may have finally reached the pontiff's ears.
A deepfake is an increasingly common type of video or audio content created with artificial intelligence that depicts false events but is done so in a way that can be very difficult to identify as being faked.
Francis, who once told ABC News he never used a computer and admonished the faithful not to sit behind computers or lock themselves in their offices and argue like "keyboard warriors," was the subject of multiple deepfake pictures that went viral earlier this year. One AI-generated image showed the leader of the Catholic Church walking a catwalk in a rainbow-colored see-through cape.
Looking to stop the use of its technology to spread deepfakes—including the Pope's faux blinged-out appearance—the generative AI art platform Midjourney terminated its free trial version in March.
The Pope urged the need to develop artificial intelligence responsibly. He stressed the need for vigilance to ensure that artificial intelligence does not fuel violence, and discrimination, especially that targets vulnerable and marginalized communities.
"So that it may be at the service of humanity and the protection of our common home, requires that ethical reflection be extended to the sphere of education and law," Francis said.
Francis' words echo statements by the United Nations Secretary-General, who in June warned against the use of ai-generated images to fuel hate in conflict zones.
"The protection of the dignity of the person, and concern for a fraternity effectively open to the entire human family, are indispensable conditions for technological development to help contribute to the promotion of justice and peace in the world," Pope Francis said.
Stay on top of crypto news, get daily updates in your inbox.