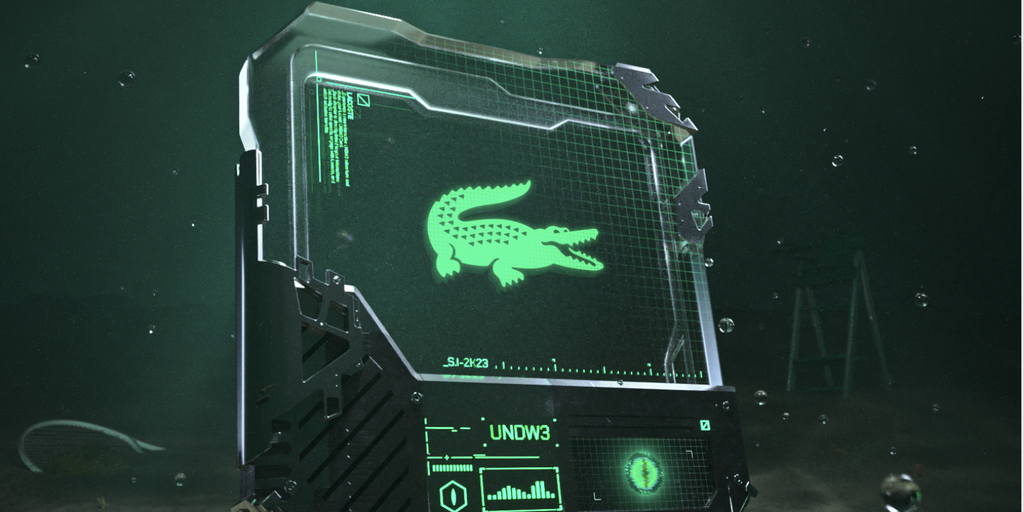 French clothing brand Lacoste announced Thursday the latest evolution of the company's burgeoning Web3 program: a gamified, token-gated ecosystem that incentivizes users to participate in activities and community events by offering them NFT-related perks. 
Last June, Lacoste launched UNDW3 (pronounced "underwater"), a Web3 initiative centered around the release of 11,212 profile picture NFTs riffing on the brand's crocodile-dominated motif.
Where UNDW3 holders gained access to perks like limited edition merchandise and in-person community events, today's announcement expands that program substantially. Lacoste hopes it will become a long-lasting digital destination for customers—and others—seeking a more in-depth and reciprocal relationship with the company. 
Crocodiles,

The UNDW3 Card represents a new chapter in our project – a unique opportunity for brand builders and entrepreneurs to shape the future of the Lacoste brand while unlocking a whole new level of utility.

Let's dive in. 🧵 pic.twitter.com/FV7YDcoA4U

— Lacoste UNDW3 (@undw3_lacoste) June 28, 2023
UNDW3 NFT holders who connect their crypto wallets to the UNDW3 portal, which went live today, are now able to participate in creative contests and sessions, video game quests, and interactive conversations put on by Lacoste. The better users perform in these activities, the more points they will accumulate on their UNDW3 card, which is tied to their wallet and an associated Discord account. And the more points a user accumulates, the more their NFT will increase in rarity, which, per Lacoste, will increase the asset's value.
UNDW3 NFTs went on sale last summer for .08 ETH a piece; the collection's floor price has since fallen to .0294 ETH, or just over $54 at writing. 
"Beyond the fleeting trends surrounding NFTs and the metaverse, we see blockchain as an accelerator, ushering in a more inclusive and experiential digital realm," Lacoste's deputy CEO, Catherine Spindler, said in a statement. "By rewarding creators and fostering horizontal relationships with our customers, we invite them into our creative process."
UNDW3 "missions" will unfold both on Discord and on Lacoste's dedicated website, over the course of seasons that themselves will be split into month-long, themed chapters. At the end of a season, the top 200 most engaged users will receive rewards. UNDW3's first season, which will consist of five chapters, is set to end in October.
Lacoste's doubling down on mass-appeal, gamified experiences aimed to bring thousands of users into the brand's ecosystem contrasts sharply with the recent Web3 strategies of other luxury and fashion brands, which have tacked towards using tokenized mechanisms to reward small, ultra-elite cadres of top customers with exclusive merchandise and tailored events.
Earlier this month, Louis Vuitton sold a limited line of $41,000 NFTs offering access to exclusive physical products and bespoke experiences. Late last fall, Balmain launched an on-chain membership program tailored to high-impact customers. 
Stay on top of crypto news, get daily updates in your inbox.