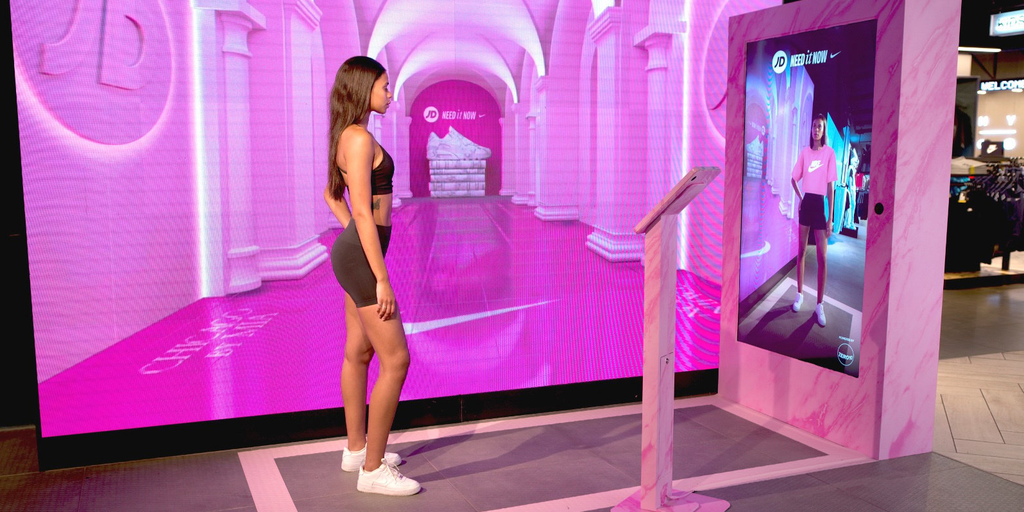 The latest deal for virtual try-on company ZERO10 is an IRL collaboration with JD Sports in the latter's Times Square New York and State Street Chicago flagship stores.
ZERO10's AR Mirrors animate the new JD Sports x Nike Need it Now collection, allowing visitors to virtually try on 18 items—some of which come with additional AR enhancement effects like water droplets.
In addition to the virtual try-on mirrors, ZERO10 is premiering a new application of the technology as a point-of-sale tool via which allows customers to initiate online purchases if an item is out of stock or subject to pre-order. They can scan an item's QR code to be taken to the JD Sports website and complete their purchase.
According to ZERO10 CEO George Yashin, the fact that the tool facilitates the trial, and now, the purchase of items not necessarily available in store, "addresses a common industry challenge."
"We have already seen that the AR Mirror enhances user engagement, extends the time spent in-store, and leaves a lasting impression," he said in a statement.
The new e-commerce integration will also allow JD Sports to track conversions afforded by the technology as opposed to simply measuring engagement.
ZERO10's proprietary AR Mirror is powered by a supercomputer that runs computer vision models in real-time and renders clothing in 4K resolution. 3D body tracking produces an accurate model of the user in three-dimensional space while cloth simulation technology replicates the behavior of the clothing in real life making the experience more realistic.
The JD Sports x Nike Need It Now campaign was developed by Metaverse agency Rumfoords, with immersive worlds as imagined by six global female creators.
Yashin noted that this is ZERO10's first partnership with a sports brand allowing the introduction of virtual try-on technology to a new audience at the intersection of sports and fashion.
ZERO10 recently partnered with Coach for an installation at its Soho store in New York where the brand's best selling Tabby Bag was available for virtual try-on — both proactively in-store via an AR Mirror and also via an AR storefront where effects on passers by were automated with a timer sequence.
While conversion rates were not available for the Coach initiative as it wasn't integrated with ecommerce, engagement was high with more than 75,000 try-ons over the project's month-long run.
At Paris' Viva Technology show in June, ZERO10 also announced a pilot program for a mobile AR store concept which could potentially be set up in just two square meters of space. ZERO10 has also previously partnered with Tommy Hilfiger, Calvin Klein and Crosby Street Studios.
ZERO10 does have some competition. Earlier this year, Nike and Men's Wearhouse trialed the AR mirrors that Snap—the company behind social media app Snapchat—recently added to its AR Entreprise Services Shopping Suite.
Stay on top of crypto news, get daily updates in your inbox.